DRONE or BI ROD
Why Bi Rod? What are the differences?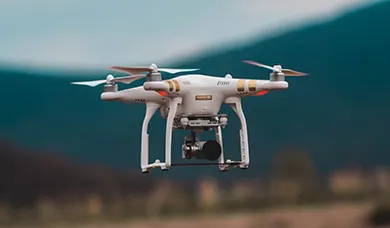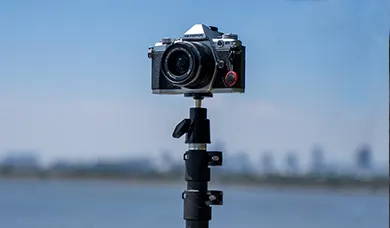 Continuous operating time
5 minutes to 30minutes
(depends on the model) 
Same as the continuous run time of
camera battery
(Works till the battery runs out)
Operable time period
※Drone regulations differ by country.
Distance to the object or restriction
※Drone regulations differ by country.
You must keep a minimum horizontal disance of 30meters between your drone and people/structures.
No restriction as long as Wi-Fi reaches.
Prohibited area
※Drone regulations differ by country.
Flying a drone over crowds or event sites where large group of people are gathered is prohibited.
No restriction but recommend prior confirmation with the sites.
Other restrictions
※Drone regulations differy by country.
Cannot fly over the event sites/in rainy weather / in windy situation.
No ristriction even in the rain or under the water. (Beware of wind.)
Many drones don't have the recording function for its whir of the propeller.  You may need to use an external recorder.
Can use the microphone built in the camera or external microphone.
・People who want to take aerial photos from higher altitudes.
・People who have drone operation skills.
・People who want to try an aerial shooting easily without constraints.
・People who do not wish to spend for initial and learning costs.
Bi Rod is recommended for shooting that has altitudes up to 7.5 meters,
which is less affected by conditions and is not subject to regulations.
Bi Rod makes a high angle shooting much easier than drones.


What's good about Bi Rod?
You can reach up to the maximum of 11.5m height without a ladder
・No stepladder nor scaffolding required.
・You don't have to go up to the roof.
    Stepping on the roof may damage the roof cover
    and become the cause of injury by slipping.
・Light-weight but heavy-duty material makes your
    shooting easier. 
Bi Rod makes high place inspection easy and convenient
Just connect the camera with your smartphone using the Wi-Fi.  
・You can monitor what your camera captures on
    your smartphone or tablet.
・Single operation is feasible.
・Bi Rod can be used where drone operation is
    prohibited or restricted.
    No advance registration is necessary.  

Bi Rod 10C-11500+Foot pedal Set
$00000
The longest in the series! The 11.5m telescopic camera pole made of carbon fiber is now available!